Frandy's interview is over, my schedule has been messed up so I'm not sure what's next but it should be Giacomo Nizzolo and Eugenio Alafaci. At the moment a vist to the toilet is my priority though and it's on my way that I meet Eugenio:
- Our turn, right? - he says - You want us together? -,
- Yes... -
- I'll go calling Giacomo then, he's downstairs... -
- Ok. I go to the toilet. -
I know Alafaci since 2012 in Calpe, when Leopard Continental was presented as Radio Shack Nissan development team - read about it here: http://allezandy.blogspot.it/2011/12/baffi-young-guns-calpe-reportage-3.html - we are friends on FB and I must tell he's a very good reporter of himself. I dedicated him a Yes we like.. - http://allezandy.blogspot.it/2011/12/yes-we-like-eugenio-alafaci.html - and I'm really proud to see he's now part of the World Tour team. I'm also happy that Team Leopard is going to survive - http://www.leopardtrek.lu/news/leopard-development-team-continues - because it's giving many youths a good opportunity to ride at a high level.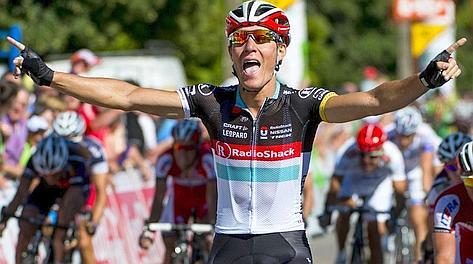 Giacomo Nizzolo
When I come back, they are siting side by side by the window and Nizzolo gets up to shake hands with me. I met him many times as he's part of the team since 2011 and I did a no-interview with him during the last Giro d'Italia. That's how things went that time: I was in Napoli for the first stage, Nizzolo finished 4th, I asked an interview but Leopard Trek was in a hotel too far from the city center, I was with my son, tired and didn't feel like to take a taxi... So I arranged a 'creative' Q&A: I sent Danny (the bus driver) my questions by phone, Giacomo wrote down the answers on a paper, Danny took a picture of it and sent it back. My main question was: "What is missed?" and his answer basicly was: "Lots of things".
We start from there again:
Ilaria - You are one of the best sprinters in the bunch in my opinion -
Giacomo - Thank you... I'm not Cavendish... -
Ilaria - No but your results - http://www.cqranking.com/men/asp/gen/rider.asp?riderid=13863 - show you are very good, in add you had to do almost all by yourself so far, à la Freire, because your team wasn't really built to support you. Things should be better in the next season...
Giacomo - Yes, that's true. In the past the team used to put all the stress on big tours gc and classics so I had to help myself at the sprint trying to use others' train but I was unable to save energies so in the end I was less fresh. Next year I'm going to have more support and hopefully a better luck! I can count again on Hondo, who's always a guarantee, but also on the Van Poppel brothers... -
Ilaria - ...even if I guess Danny Van Poppel is willing to race for himself too...
Giacomo - We are going to share it: I'm working for him in some races and he for me in some others. We shouldn't have any problem. And then there is Eugenio... -
Ilaria - You know each other since a long time, don't you?
Eugenio - Since always! we were racing together as 'giovanissimi' [the first category: 7-12] but after that we had never been again the same team so now it's great!
Ilaria - You are also good friends, so you can understand each other very well racing. That's a big advantage.
Giacomo - Yes, for sure. But I want to point out that he's not here because he's a friend of mine: he's here because he deserves to.
Ilaria - I know, I'm following him since 2012 and I know what he has been doing. I'm also proud because when I interviewed him many said: "Who the hell is Alafaci?".
Giacomo - Who doesn't know about Alafaci don't know about cycling! he has always been a strong, consistent rider, a guy you want to have in your team because he can do a fine work.
Eugenio - Thank you mate! [laughing and patting him on the back]
Giacomo - It's just true.
Ilaria - I agree. So Giacomo what's your goal for the next year? I mean... as a sprinter 'quantity' is important but is there a race you specially target?
Giacomo - Of course: quantity. But also quality. I'd like to win some good races, a stage in the Giro but also a long hilly race, a semiclassic...
Ilaria - And you, Eugenio? you are here mainly to help him but have you got any personal goals?
Eugenio - For me to be here it's already I dream coming true. I'd like to get some good results, yes, but honestly if I must choose between to do a good placement myself or to get a victory by him I have no doubt to prefer the second one. And that shows you how close we are.
I have nothing more to ask but a longer interview so Nizzolo gives me his e-mail address. While Alafaci talks with another reporter, we remain there a little confronting opinions on a few popular subjects: safety in big tour's sprints and Milano-Sanremo's new route.
Giacomo - The bonification points system makes everybody want to stay in front and you see gc riders mixed to sprinters in the true last meters of a race. That's dangerous. They often can't really sprint, the group is larger and sprints are already risky without that crowd... In a sprint you need a skill, an alertness, a natural feeling of all is going on around you that no-sprinters usually don't have. But that is and we must live with it.
Ilaria - And what about the new Milano-Sanremo? In my opinion classics shouldn't change.
Giacomo - It's much harder. No more for sprinters at all. They do that for the show, they want to make troubles for pure sprinters but in my opinion that race was already hard enough. It isn't a simple sprint after almost 300 km, with Cipressa and Poggio!
Ilaria - Cavendish said he isn't going to race it and also Greipel if I remember well.
Giacomo - They are right. And yes, I agree it makes no sense to change a classic's route, this one especially that was the only one just for sprinters. Can't sprinters be allowed to have a classic for themselves? in other classics a pure sprinter has no chances, in Tour of Flanders at most...
Ilaria - You are not a pure sprinter like Cavendish though, could a hillier race suit you better?
Giacomo - Mhm... no. It's too hard.
Eugenio - [turning toward us] Nibali wins it!
Ilaria - Ok, that's all for now. Thank you guys, and see you in Roubaix at the team presentation.
PS
Eugenio Alafaci and his brother Fabio recently opened a cool clothes shop in Como, if you are curious have a look here: https://www.facebook.com/LimitedComo