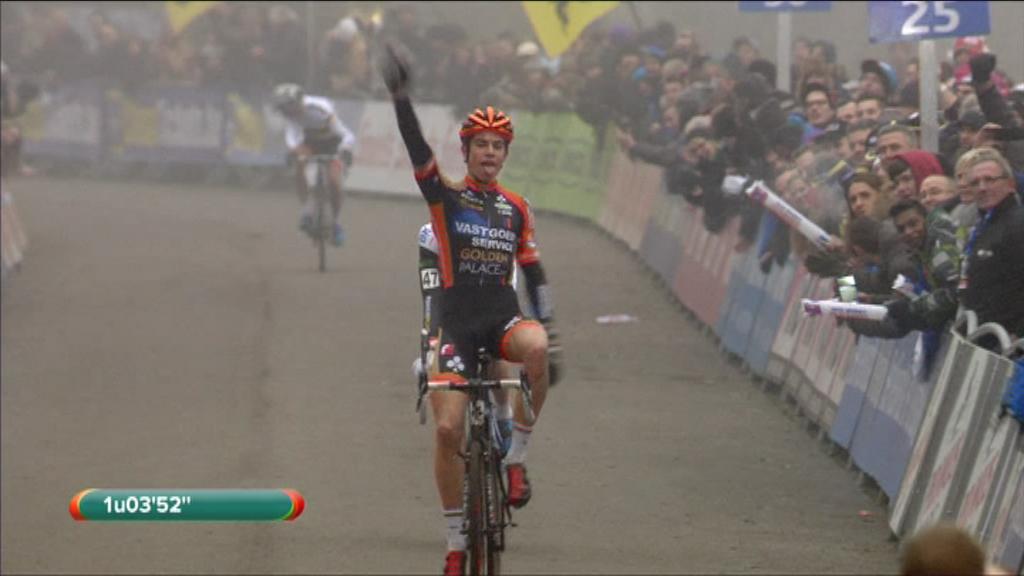 What a race!

Too fast too allow an easy break-away

.

Walsleben

attacked 2 laps to go,

Van Aerts

followed with

van der Poel

and beated the young Dutch in a

thrilling sprint

. "It's going to be fast" Lars van der Haar said before the race and yep, it has been

fast, since the start.

When the road got narrow,

Vantornout fell

and spent the most of race trying to come back to the front.
Pic by G. Van den Bossche





As I said, nobody could get away in spite

many attacked.

Finally

Jens Adams got a gap

sprinting on the line 4 laps to go but

Meeusen brought the group back

to him.

3 laps to go

it was

Van Aerts

who went away

solo

and this time it was

Walsleben

who

c

aught him and didn't stop

but immediately set his own attack. Meeusen, Van Aerts and van der Poel followed.

Meeusen fell

and got dropped while the rest approached together the line.

With

a classy aceleration van der Poel

passed and dropped Walsleben, launching the sprint.

Van Aerts

was

on his wheel

and easily jumped off

to take the win.

WHAT A RACE!!


Wout Van Aert:

"It was just a long enough finish to get over him. I'm pleased to have won. I'm not racing full-time amongst the pro's. Now I'm able to choose my races. It pleases me to race like this. It's tough to maintain your position on this course. I'm pleased that it worked out,"

That was a perfect situation for me. In the final laps, I was able to profit from the energy I saved before.

I knew he would ride it as slow as possible. I didn't dare to keep a safe distance because it was too risky if he didn't slow down. He did it and I thought I had lost but I gave all I had. It turned out I had more left in my legs."




Mathieu van der Poel:

"It was a nice duel. I tried to play it tactically in the end but it was too far to the finish. I saw him coming and knew it had lost,"

Lars van der Haar:

"Hmm not the place I wanted. But an okey cross for me. 6th in Hamme. Fastest race ever. With too much team play to make a reall difference.

I made some progress this year though. Doing good double weekends. And improving in the mud. Next is Hasselt. And then on trainingscamp."
RESULTS
1

Wout Van Aert (Bel) Vastgoedservice - Golden Palace Continental Team
2

Mathieu Van Der Poel (Ned) BKCP - Powerplus
3

Philipp Walsleben (Ger) BKCP - Powerplus
4

Sven Nys (Bel) Crelan-AA Drink
5

Kevin Pauwels (Bel) Sunweb - Napoleon Games Cycling Team
6

Lars Van Der Haar (Ned) Development Team Giant-Shimano
7

Jens Adams (Bel) Vastgoedservice - Golden Palace Continental Team
8

Marcel Meisen (Ger) Corendon - Kwadro
9

Sven Vanthourenhout (Bel) Crelan - AA Drink
10

Julien Taramarcaz (Swi) Corendon - Kwadro
11

Tom Meeusen (Bel) Telenet Fidea Cycling Team
12

Joeri Adams (Bel) Vastgoedservice - Golden Palace Cycling Team
13

Klaas Vantornout (Bel) Sunweb - Napoleon Games Cycling Team
14

Rob Peeters (Bel) Vastgoedservice - Golden Palace Cycling Team
15

Niels Wubben (Ned) Telenet Fidea Cycling Team
16

Jim Aernouts (Bel) Sunweb - Napoleon Games Cycling Team
17

Gianni Vermeersch (Bel) Sunweb - Napoleon Games Cycling Team
18

Bart Aernouts (Bel) Corendon - KwadrO Cycling Team
19

Bart Wellens (Bel) Telenet Fidea Cycling Team
20

Tim Merlier (Bel) Sunweb - Napoleon Games Cycling Team
21

Twan Van Den Brand (Ned) Orange Babies Cycling Team
22

Patrick Gaudy (Bel) Veranclassic-Doltcini Cycling Team
23

Gert-Jan Bosman (Ned) Parkhotel Valkenburg Continentaal Team
24

Jan Denuwelaere (Bel) Vastgoedservice - Golden Palace Cycling Team
25

Hendrik Sweeck (Bel) Corendon - KwadrO Cycling Team
26

Radomir Simunek (Cze) Corendon - KwadrO Cycling Team
27

Kevin Eeckhout (Bel) Van Assche-Alpha Motorhomes Cycling Team
28

Stephen Hyde (USA)
29

Severin Saegesser (Swi)
30

Patrick Van Leeuwen (Ned) Orange Babies Cycling Team
31

Kevin Cant (Bel) Corendon - KwadrO Cycling Team
32

Bart Hofman (Bel) Nodrugs Heroes Flanders
33

Cameron Jette (Can)
34

Niels Koyen (Bel) CCN - Metalac Cycling team
35

Michael Boros (Cze) CEZ Cyklo Team Tabor
36

Mariusz Gil (Pol) Project Cross Racing
37

Josep Betalu Constantino (Spa)