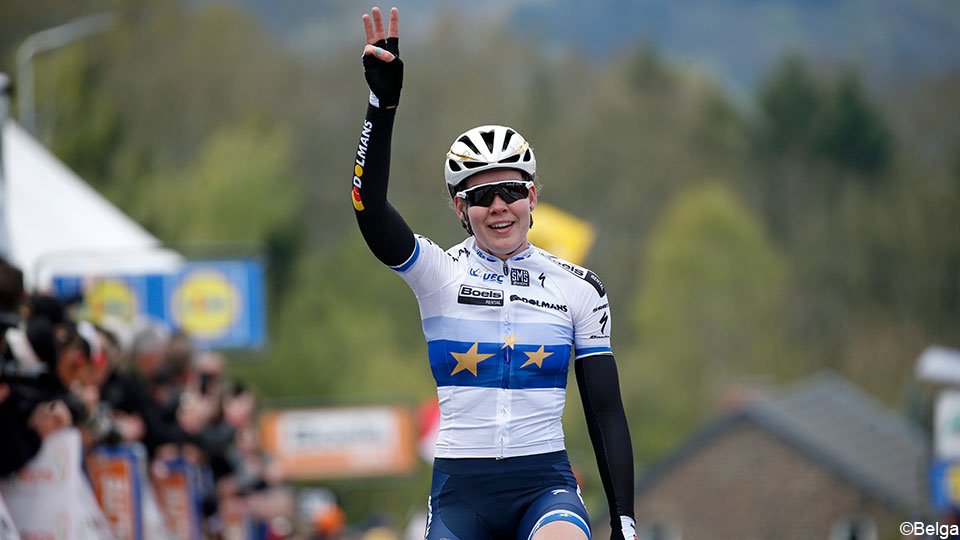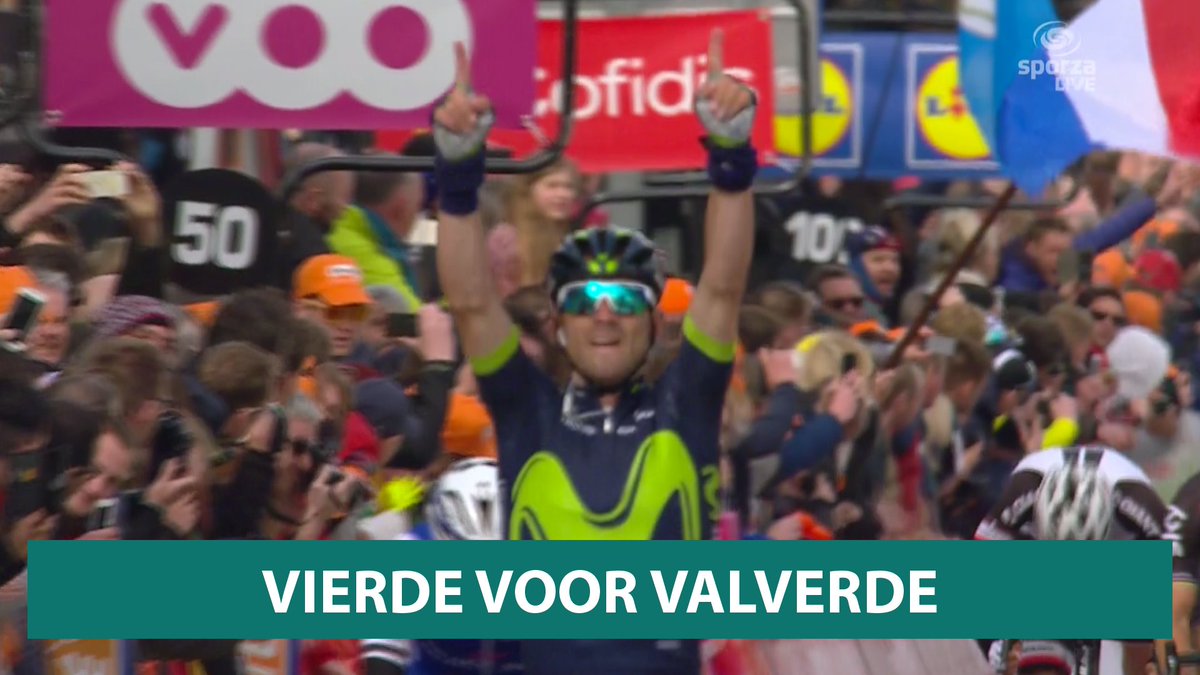 "This victory is a tribute to Michele Scarponi. I was close friends with him and it made me really, really sad to see him go pass away so young, in such tragic circumstances. I just couldn't believe it when I saw the news. It wasn't just me, but the whole team, the whole cycling world. All prizes I get here today will go to his family.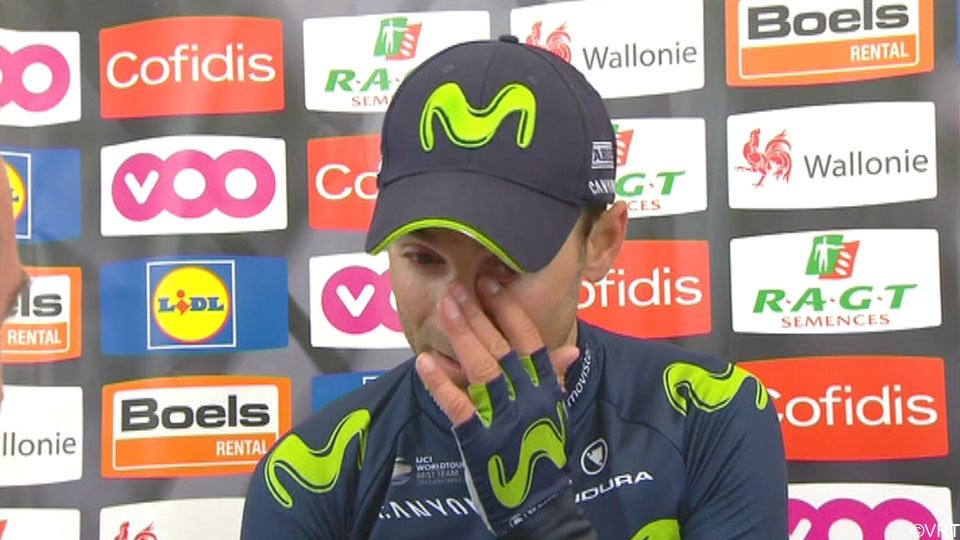 "It's a historical win - to be honest, it was a perfect week for us, even though it was so hard to get the victory today. Just like we did Wednesday at Flèche Wallonne, we took command of the race from the very beginning, yet there was a moment we left the front for other teams to take their turns, because the break was a big one and it would have been much more difficult to bring it back without help. Everyone was on the limit today.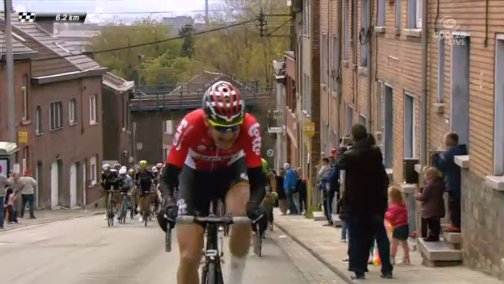 At the final slope in Ans, Martin really went hard to win solo, but I was looking for my distance to sprint, and with 300 meters to go, I just went on full steam to chase him down. Even though I saw Albasini sitting on my wheel, I had no doubts about carrying on. I was able to catch Martin, breathe for a few seconds and sprint to the line. Because of everything that happened yesterday, it's undoubtedly my most special victory here. I want to thank my whole team, because they were incredible once again, and fulfilled their tasks perfectly so I could focus on pulling this off."
RESULTS
WOMEN
1
Anna Van Der Breggen (Ned) Boels Dolmans Cyclingteam
3:42:17
2
Elizabeth Deignan (GBr) Boels Dolmans Cyclingteam
0:00:17
3
Katarzyna Niewiadoma (Pol) WM3 Pro Cycling
0:00:19
4
Ellen Van Dijk (Ned) Team Sunweb Women
0:00:31
5
Annemiek Van Vleuten (Ned) Orica Scott Women
6
Ashleigh Moolman-Pasio (RSA) Cervelo Bigla Pro Cycling Team
7
Shara Gillow (Aus) FDJ Nouvelle Aquitaine Futuroscope
8
Olga Zabelinskaya (Rus) BePink Cogeas
9
Elisa Longo Borghini (Ita) Wiggle High5
0:00:34
10
Cecilie Uttrup Ludwig (Den) Cervelo Bigla Pro Cycling Team
0:00:41
11
Janneke Ensing (Ned) Alé Cipollini
0:00:48
12
Megan Guarnier (USA) Boels Dolmans Cyclingteam
0:01:33
13
Leah Kirchmann (Can) Team Sunweb Women
14
Claudia Lichtenberg (Ger) Wiggle High5
15
Sabrina Stultiens (Ned) Team Sunweb Women
16
Audrey Cordon Ragot (Fra) Wiggle High5
17
Anouska Koster (Ned) WM3 Pro Cycling
18
Martina Ritter (Aut) Drops Cycling Team
19
Tetiana Riabchenko (Ukr) Lensworld-Kuota
20
Katrine Aalerud (Nor) Hitec Products
0:01:37
21
Karol-Ann Canuel (Can) Boels Dolmans Cyclingteam
22
Marie Vilmann (Den) Cervelo Bigla Pro Cycling Team
0:01:40
23
Alena Amialiusik (Blr) Canyon SRAM Racing
0:01:48
24
Vita Heine (Nor) Hitec Products
0:02:00
25
Margarita Victoria Garcia (Spa) Bizkaia-Durango
0:02:03
26
Katrin Garfoot (Aus) Orica Scott Women
0:02:24
27
Amanda Spratt (Aus) Orica Scott Women
28
Anna Christian (GBr) Drops Cycling Team
29
Roxane Knetemann (Ned) FDJ Nouvelle Aquitaine Futuroscope
0:02:37
30
Sheyla Gutierrez (Spa) Cylance Pro Cycling
0:02:46
31
Polona Batagelj (Slo) BTC City Ljubljana
0:02:48
32
Dani King (GBr) Cylance Pro Cycling
33
Ann-Sophie Duyck (Bel) Drops Cycling Team
0:02:50
34
Eri Yonamine (Jpn) FDJ Nouvelle Aquitaine Futuroscope
35
Chantal Blaak (Ned) Boels Dolmans Cyclingteam
0:02:53
36
Amelie Rivat (Fra) Lares-Waowdeals
0:03:32
37
Lorena Llamas (Spa) Bizkaia-Durango
0:04:06
38
Kelly Van Den Steen (Bel) Sport Vlaanderen-Etixx
0:07:24
39
Rossella Ratto (Ita) Cylance Pro Cycling
40
Sofie De Vuyst (Bel) Lares-Waowdeals
41
Sofia Bertizzolo (Ita) Astana Women's Team
0:08:00
42
Agnieszka Skalniak (Pol) Astana Women's Team
43
Floortje Mackaij (Ned) Team Sunweb Women
44
Elise Delzenne (Fra) Lotto Soudal Ladies
45
Moniek Tenniglo (Ned) WM3 Pro Cycling
46
Charlotte Bravard (Fra) FDJ Nouvelle Aquitaine Futuroscope
47
Anna Potokina (Rus) Servetto Giusta
48
Camilla Pedersen (Den) Team Veloconcept Women
49
Lourdes Oyarbide (Spa) Bizkaia-Durango
50
Lara Vieceli (Ita) Astana Women's Team
51
Laura Camila Lozano (Col) Servetto Giusta
52
Mónika Kiraly (Hun) S.C. Michela Fanini
53
Anisha Vekemans (Bel) Alé Cipollini
54
Iraida Garcia (Cub) S.C. Michela Fanini
55
Stephanie Pohl (Ger) Cervelo Bigla Pro Cycling Team
56
Claudia Koster (Ned) Team Veloconcept Women
0:08:04
57
Victorie Guilman (Fra) FDJ Nouvelle Aquitaine Futuroscope
58
Hanna Nilsson (Swe) BTC City Ljubljana
59
Ursa Pintar (Slo) BTC City Ljubljana
60
Daniela Reis (Por) Lares-Waowdeals
0:08:13
61
Wubbigje Regina Knol (Ned) Cylance Pro Cycling
0:08:16
62
Alison Jackson (Can) BePink Cogeas
0:08:18
63
Anna Ceoloni (Ita) S.C. Michela Fanini
0:08:19
64
Soraya Paladin (Ita) Alé Cipollini
0:08:26
65
Alice Maria Arzuffi (Ita) Lensworld-Kuota
0:09:18
66
Christine Majerus (Lux) Boels Dolmans Cyclingteam
67
Abby-Mae Parkinson (GBr) Drops Cycling Team
0:09:44
68
Alice Barnes (GBr) Drops Cycling Team
69
Eugenia Bujak (Pol) BTC City Ljubljana
70
Kseniya Tuhai (Blr) BePink Cogeas
71
Nathalie Verschelden (Bel) Lensworld-Kuota
72
Olena Pavlukhina (Aze) Astana Women's Team
73
Milagro Mena (Crc) SAS - MACOGEP
74
Tiffany Cromwell (Aus) Canyon SRAM Racing
75
Annette Edmondson (Aus) Wiggle High5
76
Jessy Druyts (Bel) Sport Vlaanderen-Etixx
77
Roos Hoogeboom (Ned) Bizkaia-Durango
78
Alice Gasparini (Ita) Servetto Giusta
79
Daiva Tuslaite (Ltu) Alé Cipollini
80
Francesca Balducci (Ita) S.C. Michela Fanini
81
Shani Bloch-Davidov (Isr) Team Veloconcept Women
82
Allie Dragoo (USA) Cervelo Bigla Pro Cycling Team
83
Jenelle Crooks (Aus) Orica Scott Women
84
Lauren Kitchen (Aus) WM3 Pro Cycling
85
Georgia Williams (Aus) Orica Scott Women
86
Malgorzata Jasinska (Pol) Cylance Pro Cycling
87
Hannah Barnes (GBr) Canyon SRAM Racing
88
Trixi Worrack (Ger) Canyon SRAM Racing
89
Gracie Elvin (Aus) Orica Scott Women
90
Charlotte Becker (Ger) Hitec Products
91
Tatiana Guderzo (Ita) Lensworld-Kuota
0:09:48
92
Susanna Zorzi (Ita) Drops Cycling Team
93
Maria Giulia Confalonieri (Ita) Lensworld-Kuota
94
Femke Verstichelen (Bel) Servetto Giusta
0:09:58
95
Giorgia Bronzini (Ita) Wiggle High5
0:10:17
96
Lotta Lepistö (Fin) Cervelo Bigla Pro Cycling Team
97
Pauline Allin (Fra) SAS - MACOGEP
0:11:48
98
Sarah Inghelbrecht (Bel) Lares-Waowdeals
0:13:50
DNF
Ting Ying Huang (Tpe) Servetto Giusta
DNF
Cecilie Gotaas Johnsen (Nor) Hitec Products
DNF
Nina Kessler (Ned) Hitec Products
DNF
Tereza Medvedova (Svk) BePink Cogeas
DNF
Katia Ragusa (Ita) BePink Cogeas
DNF
Ilaria Sanguineti (Ita) BePink Cogeas
DNF
Thalita De Jong (Ned) Lares-Waowdeals
DNF
Saartje Vandenbroucke (Bel) Lares-Waowdeals
DNF
Natalie Kerwin (NZl) Team Veloconcept Women
DNF
Amber Leone Neben (USA) Team Veloconcept Women
DNF
Doris Schweizer (Swi) Team Veloconcept Women
DNF
Pauline Ferrand Prevot (Fra) Canyon SRAM Racing
DNF
Valeriya Kononenko (Ukr) S.C. Michela Fanini (Ukr) S.C. Michela Fanini
DNF
Jutatip Maneephan (Tha) S.C. Michela Fanini (Tha) S.C. Michela Fanini
DNF
Soline Lamboley (Fra) SAS - MACOGEP (Fra) SAS - MACOGEP
DNF
Irena Ossola (USA) SAS - MACOGEP (USA) SAS - MACOGEP
DNF
Iris Sachet (Fra) SAS - MACOGEP (Fra) SAS - MACOGEP
DNF
Valerie Demey (Bel) Sport Vlaanderen-Etixx (Bel) Sport Vlaanderen-Etixx
DNF
Fien Delbaere (Bel) Sport Vlaanderen-Etixx (Bel) Sport Vlaanderen-Etixx
DNF
Susanne Andersen (Nor) Hitec Products (Nor) Hitec Products
DNF
Kseniia Dobrynina (Rus) Servetto Giusta (Rus) Servetto Giusta
DNF
Sofia Beggin (Ita) Astana Women's Team (Ita) Astana Women's Team
DNF
Mayuko Hagiwara (Jpn) Wiggle High5 (Jpn) Wiggle High5
DNF
Jeanne Korevaar (Ned) WM3 Pro Cycling (Ned) WM3 Pro Cycling
DNF
Aude Biannic (Fra) FDJ Nouvelle Aquitaine Futuroscope (Fra) FDJ Nouvelle Aquitaine Futuroscope
DNF
Miho Yoshikawa (Jpn) Bizkaia-Durango (Jpn) Bizkaia-Durango
DNF
Juliette Labous (Fra) Team Sunweb Women (Fra) Team Sunweb Women
DNF
Rozanne Slik (Ned) Team Sunweb Women (Ned) Team Sunweb Women
DNF
Celine Van Severen (Bel) Sport Vlaanderen-Etixx (Bel) Sport Vlaanderen-Etixx
DNF
Mieke Kröger (Ger) Canyon SRAM Racing
DNF
Valentina Scandolara (Ita) WM3 Pro Cycling
DNF
Carlee Taylor (Aus) Alé Cipollini
DNF
Marta Tagliaferro (Ita) Cylance Pro Cycling
DNF
Kaat Hannes (Bel) Lensworld-Kuota
DNF
Jessie Daams (Bel) Lotto Soudal Ladies
DNF
Isabelle Beckers (Bel) Lotto Soudal Ladies
DNF
Annelies Dom (Bel) Lotto Soudal Ladies
DNF
Chantal Hoffmann (Lux) Lotto Soudal Ladies
DNF
Mia Radotic (Cro) BTC City Ljubljana
DNF
Anna Zita Maria Stricker (Ita) BTC City Ljubljana
DNF
Anna Trevisi (Ita) Alé Cipollini
DNF
Anna Kiesenhofer (Aut) Lotto Soudal Ladies
MEN
1
Alejandro Valverde (Spa) Movistar Team
6:24:27
2
Daniel Martin (Irl) Quick-Step Floors
3
Michal Kwiatkowski (Pol) Team Sky
0:00:03
4
Michael Matthews (Aus) Team Sunweb
5
Jon Izaguirre (Spa) Bahrain-Merida
6
Romain Bardet (Fra) AG2R La Mondiale
7
Michael Albasini (Swi) Orica-Scott
8
Adam Yates (GBr) Orica-Scott
0:00:07
9
Michael Woods (Can) Cannondale-Drapac
10
Rafal Majka (Pol) Bora-Hansgrohe
11
Greg Van Avermaet (Bel) BMC Racing Team
12
Domenico Pozzovivo (Ita) AG2R La Mondiale
13
Sergio Henao (Col) Team Sky
14
Rui Costa (Por) UAE Team Emirates
0:00:10
15
Jakob Fuglsang (Den) Astana Pro Team
16
Fabio Felline (Ita) Trek-Segafredo
0:00:14
17
Rudy Molard (Fra) FDJ
18
Julien Simon (Fra) Cofidis, Solutions Credits
19
Jelle Vanendert (Bel) Lotto Soudal
20
Patrick Konrad (Aut) Bora-Hansgrohe
21
Rigoberto Uran (Col) Cannondale-Drapac
22
Tom Dumoulin (Ned) Team Sunweb
23
Davide Formolo (Ita) Cannondale-Drapac
24
Dylan Teuns (Bel) BMC Racing Team
0:00:24
25
Omar Fraile (Spa) Dimension Data
0:00:28
26
Michael Gogl (Aut) Trek-Segafredo
27
Roman Kreuziger (Cze) Orica-Scott
0:00:34
28
Daniel Moreno (Spa) Movistar Team
0:00:51
29
Alexis Vuillermoz (Fra) AG2R La Mondiale
0:00:54
30
Diego Ulissi (Ita) UAE Team Emirates
31
Damiano Caruso (Ita) BMC Racing Team
32
Lawrence Warbasse (USA) Aqua Blue Sport
33
Jay McCarthy (Aus) Bora-Hansgrohe
34
Gianluca Brambilla (Ita) Quick-Step Floors
35
Tim Wellens (Bel) Lotto Soudal
36
Simone Petilli (Ita) UAE Team Emirates
37
Enrico Gasparotto (Ita) Bahrain-Merida
38
Warren Barguil (Fra) Team Sunweb
39
Davide Villella (Ita) Cannondale-Drapac
40
Antwan Tolhoek (Ned) Team LottoNl-Jumbo
41
Jacques Janse Van Rensburg (RSA) Dimension Data
42
Floris De Tier (Bel) Team LottoNl-Jumbo
43
Igor Anton (Spa) Dimension Data
44
Maurits Lammertink (Ned) Katusha-Alpecin
45
Tom-Jelte Slagter (Ned) Cannondale-Drapac
46
Pavel Kochetkov (Rus) Katusha-Alpecin
47
Sam Oomen (Ned) Team Sunweb
48
Louis Meintjes (RSA) UAE Team Emirates
49
Cyril Gautier (Fra) AG2R La Mondiale
50
Serge Pauwels (Bel) Dimension Data
0:01:00
51
José Gonçalves (Por) Katusha-Alpecin
52
Samuel Sanchez (Spa) BMC Racing Team
53
Jarlinson Pantano (Col) Trek-Segafredo
54
Tanel Kangert (Est) Astana Pro Team
0:01:08
55
Tosh Van Der Sande (Bel) Lotto Soudal
0:01:56
56
Lilian Calmejane (Fra) Direct Energie
57
Enrico Battaglin (Ita) Team LottoNl-Jumbo
0:02:13
58
Pello Bilbao (Spa) Astana Pro Team
59
Jose Rojas (Spa) Movistar Team
60
David De La Cruz (Spa) Quick-Step Floors
0:03:22
61
Stéphane Rossetto (Fra) Cofidis, Solutions Credits
0:03:29
62
Nathan Haas (Aus) Dimension Data
0:03:38
63
Gregor Mühlberger (Aut) Bora-Hansgrohe
64
Tiago Machado (Por) Katusha-Alpecin
0:03:50
65
Thomas Degand (Bel) Wanty - Groupe Gobert
66
Simon Clarke (Aus) Cannondale-Drapac
67
Stefan Denifl (Aut) Aqua Blue Sport
68
Alex Howes (USA) Cannondale-Drapac
0:04:42
69
André Cardoso (Por) Trek-Segafredo
70
Pawel Poljanski (Pol) Bora-Hansgrohe
71
Nick Van Der Lijke (Ned) Roompot - Nederlandse Loterij
0:04:50
72
Giovanni Visconti (Ita) Bahrain-Merida
0:05:01
73
Manuele Mori (Ita) UAE Team Emirates
0:05:31
74
Carlos Betancur (Col) Movistar Team
75
Eliot Lietaer (Bel) Sport Vlaanderen - Baloise
76
Dion Smith (NZl) Wanty - Groupe Gobert
77
Yoann Bagot (Fra) Cofidis, Solutions Credits
78
Gianni Moscon (Ita) Team Sky
0:05:35
79
Diego Rosa (Ita) Team Sky
80
Alessandro De Marchi (Ita) BMC Racing Team
81
Bart De Clercq (Bel) Lotto Soudal
0:05:41
82
Fabien Grellier (Fra) Direct Energie
0:06:14
83
Bram Tankink (Ned) Team LottoNl-Jumbo
0:07:27
84
Thomas Sprengers (Bel) Sport Vlaanderen - Baloise
0:07:40
85
Alexey Vermeulen (USA) Team LottoNl-Jumbo
86
Arthur Vichot (Fra) FDJ
87
Mikael Cherel (Fra) AG2R La Mondiale
88
Rúben Guerreiro (Por) Trek-Segafredo
89
Sebastian Henao (Col) Team Sky
90
Mark Christian (GBr) Aqua Blue Sport
91
Anthony Roux (Fra) FDJ
92
Laurens De Plus (Bel) Quick-Step Floors
93
Matej Mohoric (Slo) UAE Team Emirates
94
Guillaume Martin (Fra) Wanty - Groupe Gobert
95
Yukiya Arashiro (Jpn) Bahrain-Merida
96
Sébastien Delfosse (Bel) WB Veranclassic Aqua Protect
97
Tomasz Marczynski (Pol) Lotto Soudal
98
Alexey Lutsenko (Kaz) Astana Pro Team
99
Luis Angel Mate (Spa) Cofidis, Solutions Credits
100
José Mendes (Por) Bora-Hansgrohe
101
Paul Martens (Ger) Team LottoNl-Jumbo
102
Tao Geoghegan Hart (GBr) Team Sky
103
Lennard Hofstede (Ned) Team Sunweb
104
Michal Golas (Pol) Team Sky
105
Cesare Benedetti (Ita) Bora-Hansgrohe
106
Amael Moinard (Fra) BMC Racing Team
107
Toms Skujins (Lat) Cannondale-Drapac
108
Benoit Vaugrenard (Fra) FDJ
109
Arnaud Courteille (Fra) FDJ
110
Kevin Reza (Fra) FDJ
111
Rory Sutherland (Aus) Movistar Team
112
Thomas Voeckler (Fra) Direct Energie
113
Jonathan Hivert (Fra) Direct Energie
114
Alberto Losada (Spa) Katusha-Alpecin
115
Ángel Vicioso (Spa) Katusha-Alpecin
116
Jesus Herrada (Spa) Movistar Team
0:07:52
117
Anthony Perez (Fra) Cofidis, Solutions Credits
0:08:41
118
Romain Sicard (Fra) Direct Energie
0:09:15
119
Antoine Warnier (Bel) WB Veranclassic Aqua Protect
0:10:39
120
Bryan Nauleau (Fra) Direct Energie
121
Andrea Pasqualon (Ita) Wanty - Groupe Gobert
122
Perrig Quemeneur (Fra) Direct Energie
123
Gregory Habeaux (Bel) WB Veranclassic Aqua Protect
124
Christophe Masson (Fra) WB Veranclassic Aqua Protect
125
Dries Van Gestel (Bel) Sport Vlaanderen - Baloise
126
Matteo Bono (Ita) UAE Team Emirates
127
Marco Minnaard (Ned) Wanty - Groupe Gobert
128
Odd Christian Eiking (Nor) FDJ
129
Jeroen Meijers (Ned) Roompot - Nederlandse Loterij
130
Tsgabu Grmay (Eth) Bahrain-Merida
131
Pieter Weening (Ned) Roompot - Nederlandse Loterij
132
Matvey Mamykin (Rus) Katusha-Alpecin
0:10:44
133
Guillaume Bonnafond (Fra) Cofidis, Solutions Credits
0:11:32
134
Imanol Erviti (Spa) Movistar Team
0:13:11
135
Remy Mertz (Bel) Lotto Soudal
136
Aaron Gate (NZl) Aqua Blue Sport
137
Andriy Grivko (Ukr) Astana Pro Team
138
Lukas Pöstlberger (Aut) Bora-Hansgrohe
139
Simon Gerrans (Aus) Orica-Scott
140
Jaco Venter (RSA) Dimension Data
141
Oscar Riesebeek (Ned) Roompot - Nederlandse Loterij
142
Dries Devenyns (Bel) Quick-Step Floors
143
Michel Kreder (Ned) Aqua Blue Sport
144
Romain Guillemois (Fra) Direct Energie
0:13:32
145
Grega Bole (Slo) Bahrain-Merida
146
Pierre Roger Latour (Fra) AG2R La Mondiale
0:13:55
147
Quentin Jauregui (Fra) AG2R La Mondiale
148
Petr Vakoc (Cze) Quick-Step Floors
0:14:09
149
Benjamin Declercq (Bel) Sport Vlaanderen - Baloise
0:14:41
150
Aime De Gendt (Bel) Sport Vlaanderen - Baloise
151
Rein Taaramäe (Est) Katusha-Alpecin
152
Nicolas Edet (Fra) Cofidis, Solutions Credits
0:15:35
153
Simon Yates (GBr) Orica-Scott
0:16:39